Help us inspire a nation of storytellers.
Our volunteers are amazing people, doing incredibly valuable work. We're forever grateful to them all.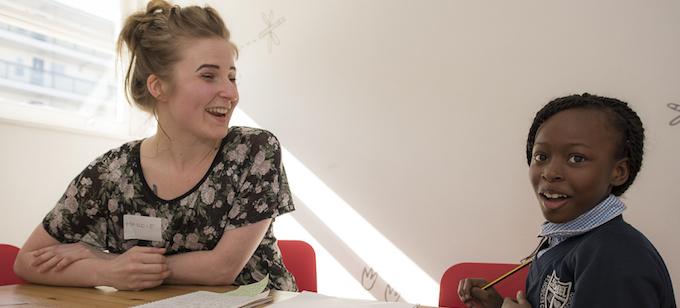 Volunteer roles
Could you help us inspire thousands of children? Show them that writing is fun? Could you sell Cubed Earwax and jars of Olde Fashioned Brain Jam?
You can help us in three main ways:
As a story mentor, supporting and encouraging young writers as part of our school programmes and writing clubs
As a shopkeepers or online order clerk, helping run Hoxton Street Monster Supplies. It's London's oldest supplier of goods for the Living, Dead and Undead
By giving skills 'in kind' to help with special projects.
All sorts of people volunteer at the Ministry of Stories – teachers, writers, artists, students, zombies, people looking for work experience… all right, not zombies. They're all just as captivated by the magic of the Ministry as the children are.
"The most inspiring thing I realised was that sharing your skills with the Ministry is not just a one-way transaction. If it was, there wouldn't be any magic in it. So it wasn't just me teaching young people about journalism: their curiosity and creativity taught me something too."
Chris Cox, volunteer
Benefits for volunteers
If you volunteer at our creative workshops, you'll:
gain experience of working with children
meet new people
learn new writing skills
get a DBS check and safeguarding training.
At Hoxton Street Monster Supplies, you'll:
gain valuable retail experience
build confidence and people skills
get a reference.
It's also loads of fun. Did we mention the tea and biscuits, and our regular thank you events? Those too.
Inspired?
For days filled with cheer, stories and monsters, magic moustaches and Zombie Fresh Mints volunteer today. We need you, and we know some children who do too.
At the Ministry of Stories we value diverse, inclusive environments, and we are happy to discuss any access needs you have, and any reasonable adjustments we can make to make volunteering for us possible.