Speaking Up at Shoreditch Town Hall
Posted by theministry on 6th April 2023
This month we brought Speak Up – our long running speech writing project – to Shoreditch Town Hall.
We're back, and the young people are speaking up on the subjects that matter to them to the people who can make real change.
Over the last nine weeks, Year 9 students from Bridge Academy, Hackney have been working with our fantastic facilitator and poet/spoken word artist Keith Jarrett to craft speeches to deliver in front of change makers.
Each student chose a subject  they were passionate about, drawing from their own personal experiences around themes such as discrimination and knife crime.
Keith and our volunteer Writing Mentors worked with each student to explore personal politics, learn from performance poetry and rhetoric and build their confidence to stand up and speak up.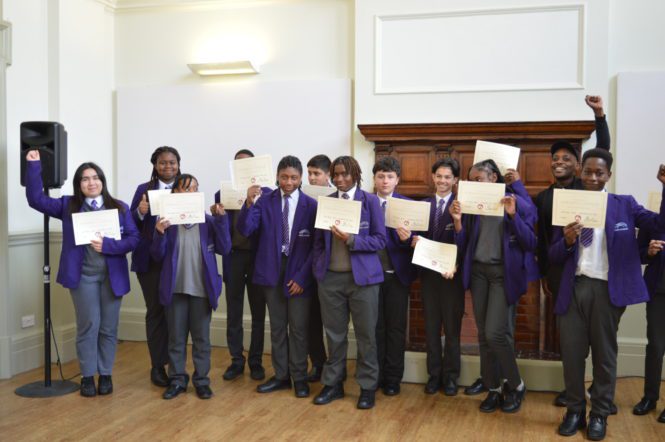 The final event took place in the beautiful Large Committee Room. The excitement of the students was palpable and they showed so much poise and courage as they delivered their speeches.
Farhan, 14, adds: "I learnt how to project my voice and to not be scared to speak my opinion."
Speech excerpt by Tiao, age 14
The average age of those carrying a knife is 15 years old. It has been reported that young people feel that carrying a knife is part of life these days for protection. The bigger the knife the better, as it makes people scared. People are fearing for their lives every single day.
Knives are often hidden in public places such as parks where young children play.
I have read in the news that even people in wheelchairs are getting robbed at knifepoint
Cressida Dick the former Met Police Commissioner who was appointed in 2017 stated that reducing knife crime was her priority.
PRIORITY PRIORITY PRIORITY.
Think about that word. I mean really think. I looked it up in the dictionary and the definition that I found was 'A thing that is regarded as more important than others.' Cressida Dick resigned in February 2022. Five years, five years, five whole years was tackling knife crime really her priority?
I'm 14 years old and never want to be directly or indirectly affected by this scary, growing problem. So I say let's all make a choice and fight this. Let's make it our priority.
Now let me ask you all again, do you think you, someone you know, or a family member will ever be a victim of knife crime?
Well done to all the young writers who stood up and many thanks to Shoreditch Town Hall for hosting our event and making us feel so welcome.
For out more about our schools work here.
Speak Up is generously supported by UBS. This is the second year of a three year partnership with UBS and Ministry of Stories.